The FLEX Manufacturing Execution System (MES) has been designed and developed by Tecnest in order to provide a solution to all Manufacturing Execution processes' needs.
Complete
In compliance the international MESA model, the FLEX MES solution provides features to manage the 10 main pillars of MES: data acquisition, Dispatching Production Unit, resource allocation & status, labor management, process management, quality control, traceability and tracking, Control PLCs, warehouse management, performance analysis.
The central FLEX MES solution is connected to the Smart Factory Console of FLEX for Industry 4.0. This is a role-based web application for data collection and production process monitoring and to manage and analize the data and information collected from industrial machinery, operators and products within the Factory 4.0.
---
Real Time
FLEX MES is complementary to the FLEX APS (Advanced Planning & Scheduling) solution. The FLEX MES solution is, in fact, natively integrated with the APS one. These two modules create the FLEX PWE (Plan while Executing) solution which, thanks to an integrated data architecture, provides a real-time synchronization between the planning and execution processes.
Thanks to this solution, it is possible to check (directly on the Gantt) the status of planned activities, while these are performed. That means, it is possible to modify the production plan in real-time, as soon as it turns out to be necessary.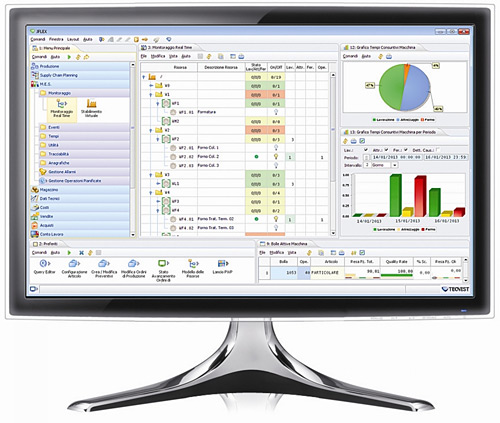 ---
Flexible
FLEX MES can run as a stand-alone application or be linked to the other applications of FLEX Suite (APS solution and ERP Operations features).
It can also be easily integrated with third-part APS systems and with the company existing ERP (such as SAP, JDEdwards, Baan, Microsoft Dynamics, etc).