FLEX OPM is a complete solution which includes all features for Operations Management in a manufacturing company
Unique
FLEX OPM (Operations Management) includes features to manage all main operational business processes of a manufacturing company, also called "Operations".
By providing features for design, sales, purchase, logistics and costs management, the FLEX OpM solution integrates the planning & scheduling and Manufacturing execution processes, already managed by the FLEX APS and MES solutions.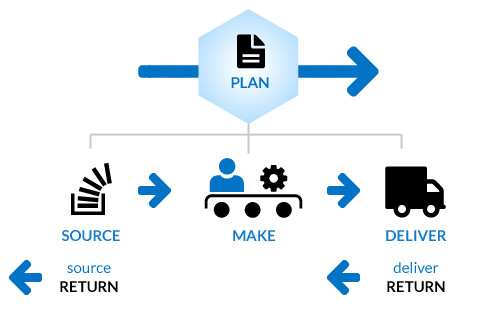 MODELLO SCOR®
The FLEX OPM solution has been conceived for "To Order" companies (ETO, MTO, ATO, FTO) and is compliant with the SCOR Model® (Supply Chain Operations Reference) by the Supply Chain Council (SCC).
According to this Model, in fact, the J-Flex OPM features support the main Supply Chain processes: Plan, Source, Make, Deliver e Return.
---
Scalable
The FLEX solutions has a modular and scalable architecture and can manage all business operational processes (from product design to purchase management, logistics, costs).
It is highly configurable (in terms of database and framework) and can be customized according to the customer's needs.
It can also be easily integrated with third-part APS systems and with the company existing ERP (such as SAP, JDEdwards, Baan, Microsoft Dynamics, etc).
---
Focused
FLEX OPM integrates the FLEX APS and FLEX MES solutions and it, therefore, is focused on manufacturing operational processes and "To Order" manufacturing processes (ETO, FTO, ATO, MTO).