Product and Process Engineering:
Functionality for Product and Process data management (Item Master, BOM, Production routings, etc.).
BOM and production routings can be parametrized, through the use of rules/formulas that can be defined by the user, the possibility to make product revisions and attach files (projects, pictures, videos, atc) to any item.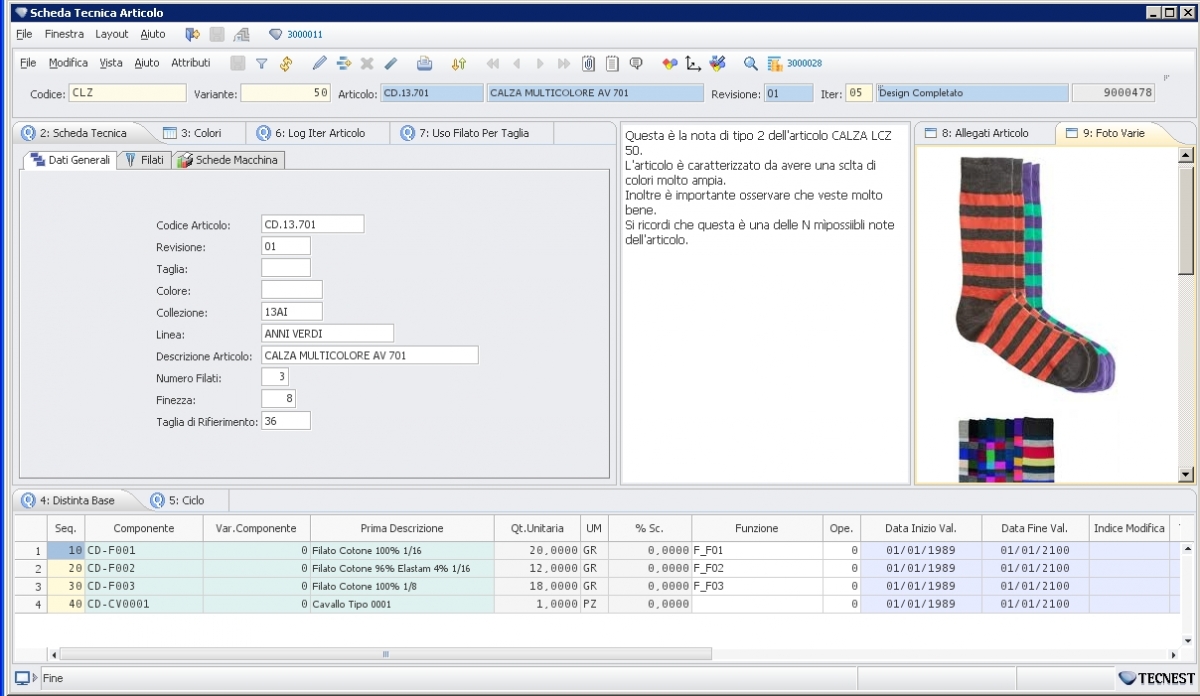 ---
Product & Sales Configurator (FLEX PSC):
Product configurator software for single or multilevel configuration processes. It provides also features for pricing quotation and for the generation of BOMs and production routings. It is therefore both a produc and a sales configurator. It is natively integrated with the Design features and the Sales features for quotaqtion issue. It can be used as a stand-alone applicaiton to be integrated with the existing ERP. For more detailed information, please see the FLEX PSC webpage.
---
Sales Management:
Features for sales process management, such as:
Quotations, with the related progress-status management features
Order Entry
Open orders
Price lists
Intercompany orders
Sales forecasting
Order Fulfillment, integrated with FLEX APS
Shipment plan to customers (integrated with FLEX WMS)
Shipping
Invoicing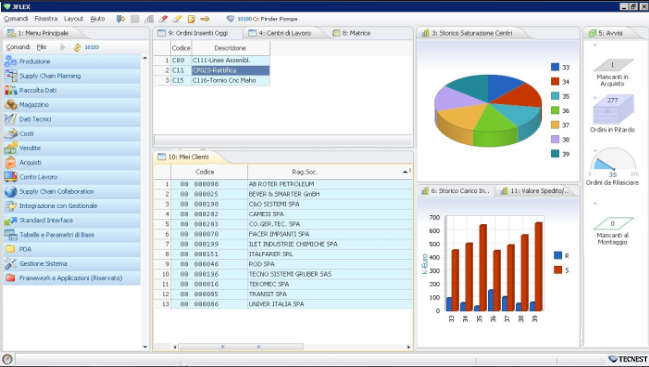 ---
Purchase management:
Features to support the purchase process:
Purchase requests
Request of Purchase offers
Supplier orders
Open orders
PO price lists
Intergroup / Intercompany orders
Receiving
Suppliers' invoice control
---
Subcontracting order management:
Features to support subontracting orders, completely integrated with the Planning and Execution features of FLEX APS and MES.
Among those there are: Subcontractors' warehouse management, sending materials to subcontractors by order or deposit account, Sending WIPs,Subontracting orders requests and Production orders management.
These features are integrated with the Web applicaiton features of FLEX SCC (Supply Chain Collaboration).
---
Product Cost:
It provides product cost estimation by using BOMs and production routings structure and it provides Cost centres' hour costs as well as Material and works purchase costs:
Cost management (Standard, Current, Actual..)
Product cost detailed by each single cost component and subcomponent
Direct and indirect costs
Cost simulation and confrontation
Cost sheet with all data history.
---
Warehouse management:
It provides features for warehouse management in terms of material handling, stock management and inventory estimation, through:
Internal/External warehouses
Warehouse handling automatically from document/orders or manually
Batch/lot management
Inventory management
Real Time or Batch appreciation of warehouse handligs
Valorizzazione e Storicizzazione Giacenze con Vari Criteri (LIFO, FIFO, Medio, Ultimo, Standard, etc...)
Fulfillment of Fiscal obligations
Warehouse Analysis (ABC, KPIs, etc..)
The standard features of the Warehouse Management module are extended in the FLEX WMS (Warehouse Management System) solution.
---
Basic features:
Multi-company and multi-plant features
Multi-currency
Multi-Language
Tools to manage and customize applications